Cisco, Huawei, and other industry leaders have teamed up with universities to develop a completely new Internet architecture with no dependency on IP.
The newly formed Named Data Networking Consortium, where companies and research institutions can collaborate, is aimed at developing a new system of connectivity that promises a future without servers or IP addresses.
Named Data Networking (NDN) is a potential Internet architecture designed as a distribution network. To access the NDN network, a user needs to install some software applications and the protocol stack. This serves as a software router, working together with a core component of the network, the NDN Forwarding Daemon, to allow communication without IP addresses or hardware servers.
The consortium has attracted industry leaders such as Alcatel-Lucent, Cisco Systems, Huawei Technologies, Panasonic Corporation, and Verisign. Its members also include eight American and six international universities, including UCLA, devoted to creating the framework for NDN as the future standard of networking.
The current status of a basic NDN network testbed can be seen at the Washington University in St. Louis website.
The networking world is still looking for wider adoption of IPv6, but the new NDN protocol could change the way data is being transmitted, especially for corporate networks. NDN can be very attractive for organizations looking to share data over public networks and ensure the delivery and security of content.
Because data transmitted using NDN doesn't use IP addresses, traditional packets cannot be identified in transit; only the sender and recipient know which data needs to be reconstructed. This provides an additional layer of security over other methods, such as encryption.
NDN also is the right architecture to implement solutions such as Network Coding, a new approach to transmitting information over the Internet. This approach, using mathematical equations instead of sending packets, can be 5-10 times faster than other methods.
NDN is a clean-slate design in that it is a completely new architecture and has no dependency on IP. As the consortium website states, "NDN is an entirely new architecture, but one whose operations can be grounded in current practice. Its design reflects our understanding of the strengths and limitations of the current Internet architecture."
NDN aims to remove the restriction that packets can only name communication endpoints. "As far as the network is concerned, the name in an NDN packet can be anything: an endpoint, a chunk of movie or book, a command to turn on some lights, etc.," the consortium website says.
Figure 1: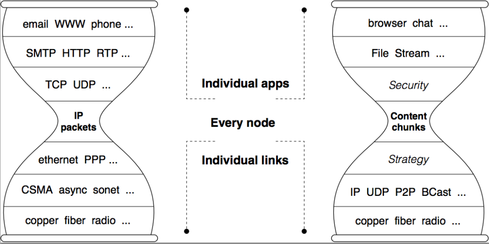 Internet and NDN hourglass architectures.
(Image: NDN Consortium)
It likely will take several years to build the basic infrastructure for NDN to be a viable commercial option for enterprises and consumers. However, as often happens with revolutionary technologies, if the benefits are clear and the NDN consortium can attract other organizations, we could start seeing NDN applications in the marketplace relatively soon.
The basic Internet infrastructure we use today was defined more than 30 years ago. In the next decade, we could see a handful of new architectures taking shape that can creatively disrupt the core of the communications system. NDN, together with IPv6, 5G technologies, and the Internet of Things, will change the way we communicate and connect to our world.
We welcome your comments on this topic on our social media channels, or
[contact us directly]
with questions about the site.