Infonetics report shows that shipments of 802.11ac access points are picking up. The new WiFi standard offers many enterprise benefits, but watch out for integration issues.
When I look at the WiFi map of the networks around my home office in Barcelona, the image displayed on the screen looks like a forest, composed of many trees of WiFi APs. But most of them are consumer devices, all of them using the 2.4 GHz WiFi band.
I'm currently looking at purchasing a new WiFi router to take advantage of the speed provided by my fiber-to-the-home connection. Since we only have four to five devices connected, I'm looking at inexpensive 802.11ac SOHO routers ranging from $100 to $150. One of the key advantages of 802.11ac is dual-band capability (simultaneous 2.4GHz and 5GHz bands), supporting new and old devices. I'd love to use only the 5 GHz band, but some of the devices we have at home will have to continue using the lower band.
The corporate world, however, is rapidly moving to 802.11ac. Market research firm Infonetics Research recently released excerpts from its third quarter 2014 Wireless LAN Equipment and WiFi Phones report. The study showed increased demand for new WLAN equipment, and how government and enterprise customers are moving faster to adopt 802.11ac.
Nearly a quarter of all access points shipped are now 802.11ac, according to Infonetics. Altogether, sales of 802.11ac access points are up almost 10-fold over the past year, with nearly 1 million units shipped in the third quarter, the firm reported.
Figure 1: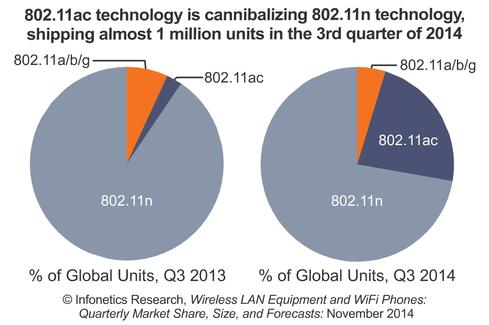 One reason for the fast adoption of 802.11ac is the need to support more users, which basically means more devices. One of the main advantages of 802.11ac is the availability of multiple-user (MU) MIMO option, in which each AP divides available spatial streams to talk to up to four clients simultaneously, theoretically quadrupling user density. While most of the 802.11ac routers and APs do not support MU-MIMO yet -- this feature is part of the Wave 2 specs-- the ability to support many more users on the 5GHz band is already a big selling point for the new standard.
But corporate users should resist the temptation for a simple one-to-one replacement of existing 802.11n or even legacy technologies like 802.11a/b/g WiFi APs with new 802.11ac APs. While replacing the APs could be the fastest method of rolling out the new technology, performance for 802.11ac clients may be adversely impacted because of slower transmission rates by 802.11a/n clients.
802.11ac is backwards compatible with 802.11n and 802.11a, and operates in a mixed mode environment supporting 802.11a/n/ac clients in the 5GHz band. This could be fine for a SOHO environment with a handful of mobile devices, but not in a large enterprise that needs seamless connectivity without service degradation.
Another reason driving 802.11ac adoption is the opportunity to connect many more devices to the Internet of Things (IoT) using WiFi. In theory, carriers and ISPs could offer hundreds of available WiFi hotspots per square mile and connect thousands of low-power devices without any significant impact on their customers' residential and business networks.
New standards such as "sub 1GHz" 802.11ah, for license-exempt data transmission, are still on the drawing board and require industry support. Moving data-hungry devices to the 5GHz band will allow use of 2.4GHz APs to connect hundreds of devices such as sensors, appliances and other devices that do not require broadband speeds.
Most experts agree that the upcoming 5G networks needs to be a combination of cellular wireless technologies such as LTE-advanced, WiFi, WiMAX and other technologies that will enable users to switch seamlessly switch between networks without losing connectivity.
We welcome your comments on this topic on our social media channels, or
[contact us directly]
with questions about the site.